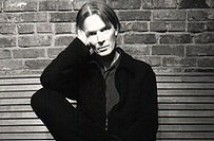 Legendary punk poet Jim Carroll has passed away at 60. The cause was a heart attack, said Rosemary Carroll, his former wife.
Carroll was well-known in the mainstream for the film, The Basketball Diaries, which starred Leonardo DiCaprio and covered his youth. His poetry and music was very influential, with Patti Smith saying:

I met him in 1970, and already he was pretty much universally recognized as the best poet of his generation, The work was sophisticated and elegant. He had beauty.
His fans included Allen Ginsberg, Ted Berrigan and Jack Kerouac and he contribued dialogue for Andy Warhol's films. Jim collaborated with musicians Lou Reed, Blue Öyster Cult, Boz Scaggs, Ray Manzarek of The Doors, Pearl Jam, and Rancid. One of his poems is the source of the phrase "… And Out Come the Wolves" which inspired the album of the same name and also featured his voice.
Our deepest condolences to his friends, family and fans.