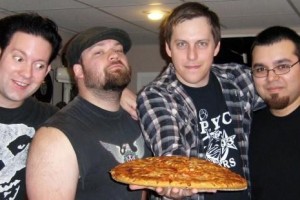 Illinois' Reaganomics, which features all three members of Ryan's Hope, have hooked up with Red Scare for the release of their debut Get Lost, Stay Lost. Red Scare will be releasing the record digitally on October 20th. The 17 song collection clocks in at around 22 minutes.
The band has posted three new videos from their practice space. You can find performances of "Smug Punx," "Lower Mgmt," and "Credit Card" below. Five tracks are also streaming at MySpace.
On September 26th the band wil play their first show at The Mutiny in Chicago. They'll follow it with an apperance at the 4th Annual Red Oktoberfest at the Beat Kitchen on October 23rd with Off with Their Heads, The Copyrights, La Plebe and Smalltown.