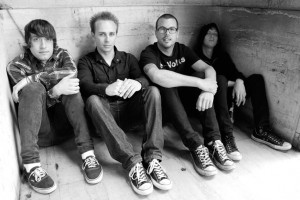 Born out of the breakup of Tsunami Bomb, Nothington has made quite a name for themselves out of the San Francisco bay area with their last record All In. Taylor Cocke spoke with Chris Matulich and Jay Northington about their upcoming record Roads Bridges and Ruins, touring and The Fest.
You guys weren't a band terribly long before your first record came out. About six months if I recall.
Chris Matulich: Yeah, we basically just started the band and BYO got in contact with us. Then we finished up writing some songs, and that was that.
And it's been about two years since that record game out.
Matulich: Yeah, it's been about two and a half years.
So what took so long between the first record and this one?
Jay Northington: We all had some shit to sort out, pretty much.
Matulich: We toured for about a year, year and a half. Something like that. And when we got back, our situations at home were changing, so we didn't start writing the new record until about two years after the first one. So now, we've finally finished it up, and it's ready to go.
Right on. The first record got compared a lot to Social Distortion, as well as having some pretty clear more southern rock influences. Does the new one have similar influences, or are you switching it up a bit?
Matulich: I think we've got a good array of songs that stay true to the sound of the last record, but I'd say at least 50% of it is a little bit different.
Northington: It's a little faster, it's a little harder, it's a little more urgent.
What've you been listening to while writing this one?
Northington: Other than my usual staple of Hank Williams, it's been The Riverboat Gamblers, and some other stuff.
Matulich: Yeah, I think we've tried out a lot of different stuff just because the last record was kind of very similar to itself and this record has a lot of different stuff. A lot of different tempos. They're not complicated but they're a little bit more…
Northington: They're deeper.
Matulich: Yeah, musically deeper. There's more different parts. It's not as straightforward as the last one. The songs got longer. By accident, but they work.
Northington: It's about ten minutes longer with roughly the same number of songs.
You guys are based out of San Francisco, but you definitely sound like you belong in the South or even more the Florida scene. Is there a different reaction from people who are just seeing you for the first time here versus in the Southern states?
Matulich: There is. I think we do well in the Southern states. California is kind of a picky state.
Northington: We've always had a good time in San Diego. We've definitely had fun in L.A. before.
San Francisco's awfully picky though.
Northington: I won't get into that. (laughs)
Matulich: It's a rough city.
So this is going to be your third year at The Fest.
Matulich: That's right.
How's Gainesville treated you guys?

Northington: It's the greatest. I look forward to nothing but that all year. I look forward to that more than the sun coming up.

Matulich: Basically every fan that we have throughout the country is in one place.

Northington: Or the world, for that matter.
Matulich: We don't have that many fans, but they all go to that event so it makes it really good. (laughs)
Any bands you guys are pumped to see?
Matulich: Of course. Dear Landlord, who we just saw here a couple weeks ago. I wanna see The Riot Before and Lemuria.

Northington: Yeah, for sure.
Matulich: Dillinger Four, Off With Their Heads of course. The Copyrights.

Northington: I'm gonna put out Tim Barry. Samiam is gonna be there too.
You guys just played a show with them.
Northington: We just did a couple shows with them down the West Coast, and we're setting up to do a show in Portland and a couple other dates up in that area.
That had to be a blast, playing with those guys.
Northington: It was amazing. It was really cool being like, wow, I've listened to these guys since 9th grade.
Matulich: They're really good and they're really fun to hang out with.

Northington: It was great, we got along immediately.
The Fest is happening on Halloween, any plans to dress up?


Matulich: No, not really.
Northington: We were supposed to last year, but it didn't happen.
Matulich: Our friend Mitch dressed up like a giant rat last year. He was pretty much the only one who dressed up, but there are still some YouTube videos where you can spot him.

What's the most absurd Fest memory you guys have?
Matulich: Maybe everyone getting stuck in the elevator. There's a video called Fest 7 Elevator of Death on YouTube.
Northington: If you look really closely, you can see me falling out. Mitch ate shit and had to have the paramedics called. It's pretty awesome.
Matulich: There's about 50 people in this elevator and it gets stuck. Someone happened to be filming, and you can see several members of different bands.
Northington: Yeah, it stopped halfway and everyone came piling out.
You guys are touring out there. You taking anyone with you?
Matulich: Yeah, we're doing about a two-month tour. About three weeks there and two weeks back. We're doing a few different legs. California with Fire Whiskey and In The Red, and then we're doing part of the South with The Anchor and The Infamous Jaguar Shark. We're going up the East Coast with Dirty Tactics and hopefully we'll meet up with The Copyrights in Chicago and maybe Off With Their Heads.