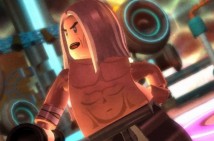 Iggy Pop is set to appear as a LEGO character in the forthcoming Lego Rock Band. The game will allow gamers to use instrument controllers to play lead and bass guitar, drums, and vocals on a number of rock music songs.
In addition, aspects of building with Lego bricks are incorporated into the game, allowing players to customize their avatars and other band assistances, and include additional Lego-themed gameplay modes. The gameplay and the game's soundtrack has been selected to create a "family-friendly" game.
Currently, the soundtrack is set to include songs from Blink 182, Blur, Bon Jovi, Counting Crows, David Bowie, Europe, Foo Fighters, Good Charlotte, Iggy Pop, Kaiser Chiefs, Queen, Sum 41, The Hives, The Police, and Vampire Weekend.
Check out some more photos of Iggy's character here.