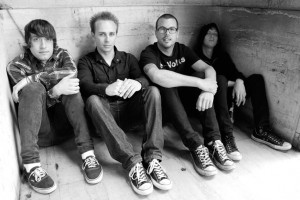 Today Nothington unveiled their sophomore LP Roads, Bridges and Ruins. Today is also the first day of their nationwide tour including a stop at the Fest. We also spoke to the band recently. Our review had this to say about the album:

Roads, Bridges and Ruins does not fall prey to the common "sophomore slump" that many bands experience. Instead, it finds the band maturing musically and emotionally, drawing on the ups and downs of their lives and the world. The music is an impressive leap that won't leave old fans out in the dark; it's also quite comfortable. It's nice to see people who eat, breathe and bleed punk music make good in such a great way.
We've arranged a stream of the whole album. Head to the the band's profile and check it out.
Note: As you can see, the tracks from All In are still there, too. Scroll down in the player to hear the new one.