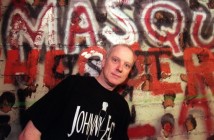 A number of you wrote in with the sad news that author and club owner Brendan Mullen has passed away at the age of sixty. The LA Times reported on his passing, noting his opening of The Masque in Hollywood which went on to launch the careers of The Germs, X, the Go-Go's, The Weirdos, the Skulls, the Controllers and more.
He was equally well-known and respected for his books, including the classic, We Got the Neutron Bomb: The Untold Story of L.A. Punk, 2002's Lexicon Devil: The Fast Times and Short Life of Darby Crash and the Germs, the oral history of Jane's Addiction, Whores, published in 2005, and wrote the 2007 Live at the Masque: Nightmare in Punk Alley.
Our deepest condolences to his friends and family.