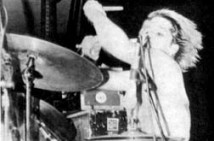 Today's reports of Chuck Biscuits' death have been traced back to a single blog post that went viral. The original author is now questioning the legitimacy of his announcement and is updating the story as things are cleared up. Check out the blog for updates.
We'll keep you notified as this mess sorts itself out. We'd be quite happy to have this one wrong and hope to learn Chuck's still with us.
UPDATE: D.O.A. frontman Joey Keithley is confirming that Chuck is indeed alive. Check out Straight.com for a discussion of the hoax that lead to this.