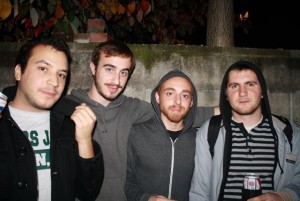 The Menzingers may be young, but they've definitely started to turn some heads. Coming out of what seemed like nowhere, they've managed to somehow master the art of the slow build-up and the gigantic, singalong chorus. Taylor Cocke sat down with Greg Barnett to talk about where they come from, the new record, and of course, the Fest.
Your first record has all sorts of literary references throughout your first record. Everything from Shakespeare to Edwin Arlington Robinson makes an appearance. Alright, which one of you is the nerd?
(laughs) That would be Tom! That seems to be Tom's biggest problem. Kid reads to damn much. Shit's gonna rot his brain sooner or later. Books are a scary thing for a young mind, ya know? But I can't single him out for being the only nerd in the band. Joe can quote Jurassic Park front to back, Eric's really into those crazy samurai movies, and I'm just a snobby, self righteous music critic.
You guys don't tour terribly often, and it took a while in between A Lesson in the Abuse of Information Technology and your new 7-inch, but somehow you guys still managed to keep up the energy in between releases. How did the writing process change or stay the same in order to do that?
We try to tour as much as we can. I'm still in college so that definitely puts a strain on things. Our writing process is super spastic too which doesn't always help. We'll go months without writing a song then write three in a couple weeks. We're constantly doing weekend tours during my school semesters and I always take at least two weeks off for touring so maybe that helps.
It's sorta like we released Lesson in 2008 instead of 2007 in some instances. When we put Lesson out no one cared about us. Seriously, bands say that all the time but we played so many shows where not one person watched or if they did they could care less. After a year or so people started getting into it and it was like we just released our first full length.
So how did the writing process change?
Well we stopped practicing in Eric's parents' basement in Scranton and now we practice in our basement in Philly. That's not really a good answer though. We decided to do a 7" because we were constantly scrapping songs and felt that those four fit the best together. It worked out well and now we're writing the new full length. We've got a good portion of it written and hopefully will be in the studio sometime after Fest.
Despite focusing on different political or personal topics, your music tends to come from a specific geological place. How does your hometown in Pennsylvania play into the subject matter of your music?
It's a huge deal. Everyone in the band is from Scranton, PA and while I lived there for about a year with Joe and his brother Tony, I grew up 20 minutes outside in a town called Lake Ariel. It seems almost every time our lyrics become political or personal the bigger picture is always centralized back to Scranton. In fact that's going to play a big part in our next record. It's tentatively titled Chamberlin Waits and draws on the influence our military industrial complex has on cities like Scranton. But let's save that for a rainy day… So Scranton's a rad place! If this was the travel channel I'd recommend drinking coffee at Northern Light, buying records at Embassy Vinyl, or grabbing beers at The Bog. Just don't expect to see palm trees like in The Office.
What were some of the bigger influences for Hold On Dodge?
That's a hard one. I feel like we have a pretty common base as far as influences go. Primarily The Clash. We're all influenced by different stuff but if I was stuck on a deserted island and didn't have to deal with The Others, I'd just listen to The Mountain Goats.
What's your favorite song on Hold On Dodge?
I really like them all but I guess "Sunday Morning" would be my favorite. Especially when we play it live. The bonus acoustic track is up there too. Toby called me one night when we were having a party at our house and said we should get a bonus track together for the digital release. Tom and I had that song for a while and decided to record "Kentucky Gentlemen" during the middle of the party. The party moved to our basement and we recorded it. Tom was too drunk to add a second guitar so I just played it. Everything's out of key and sloppy but I think that's how the song needed sound.
Speaking of your releases, how is it working with Jesse Cannon? The guy's produced some pretty amazing stuff…
It's always a blast. He knows what we're going for at this point and definitely knows his stuff. When we recorded the full length I'm pretty sure he didn't leave the control room once. He gets super committed to his projects and that's exactly what we were looking for. So it's definitely been a great experience working with him.
Did he find you or did you find him? If you found him, any bands in particular that he produced that got you interested in working with him?
When we did Lesson we were going back and forth with Go-Kart to whether we should re-record the record with some more songs or keep the original. The previous record was basically a shitty demo and we felt the new batch of songs were much better than the older. So Greg from Go-Kart hooked us up with Jesse and we went from there.
You guys made it out to the West Coast for the first time this summer with Broadway Calls, even releasing your 7-inch while you were there. How did that go?
It was a blast! Since this was our first time even being on the West Coast we had Broadway Calls show us all the touristy stuff while we were out there. The shows were amazing and I don't think it could have worked out any better. Before we met up with Broadway Calls we had like 4 days off before our show in Seattle so we went camping in Yellowstone National Park. It reminded me of a National Lampoon's Vacation movie. Everything starts out great and then one by one things get crazy and before you know it you're leaving with a lesson and some good memories. Tom got in trouble with a forest ranger that resulted in a ridiculously huge fine while Joe and I awoke one night to a pack of wolfs sniffing out our tent. Besides our brief camping adventure the shows were great and we meet some awesome people.
Gonna make it back out there any time soon?
I hope so. I'm craving In-N-Out Buger. Animal Style.
Speaking of that tour and bands that were on it, you guys are going on the road again with Broadway Calls. How'd you hook up with those guys?
Yeah were doing a couple of dates with them in between their Streetlight and Gaslight tours. It'll be great to meet up with them again and play some shows in our neck of the woods. Also Dave House is coming over from England and he'll be jumping on these shows with us.
Brendan Kelly of The Lawrence Arms is a hugely outspoken fan of you guys, going so far as to bill you on their upcoming Tenth Anniversary show. How pumped are you guys for that?
We're all really excited for it! The biggest show we've ever played was in front of like 400 people? It's safe to say this one's gonna be a shit ton bigger. Expect some cool surprises. I don't know if my liver can handle it though.
Has Beex managed to get you guys some opportunities you otherwise might not have?
Yeah he's constantly helping us out with whatever he can. Its funny 'cause even when he briefly mentions us in his blog kids come out to see us. One girl was even selling shirts with his face on it during the Red Scare tour in Philly.
Moving on, how pumped are you for The Fest? Those Gainesville kids tend to treat you well?
Fest has become what Christmas morning was to me 15 years ago. I feel like I've been waiting all year to drink my face off, see all my friends, and watch a shit ton of awesome bands play in a 3 day period.
Any bands in particular that you want to see?
There's so many to list but I'm super stoked to see Dead to Me, Ninja Gun, Cheap Girls, Polar Bear Club, Banner Pilot, and How Dare You. Oh and of course Captain We're Sinking. Challenge them to a case race when your there. Better yet challenge me to a case race at fest! I'll take on all you mother fuckers!