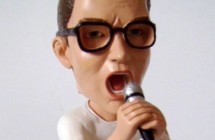 Aggronautix have announced plans to immortalize Milo Aukerman of Descendents and GG Allin with a new pair of polyresin figurines. Displayed in a a black and blue tri-windowed box, Milo is portrayed in action and comes complete with his trademark nerd glasses and stage stance.
GG Allin is being released as a "Extra Filthy Bloody" Edition with his image circa 1991 with added crud, blood, and cuts. The figure, limited to 500 numbered units, stands at 7 inches tall and is made of a lightweight polyresin. Milo is the fourth punk personality to be polyresinated by Aggronautix. In May of 2009, the company launched with a highly popular GG Allin "1991" figure, which was limited to 2000 numbered units. That figure has since sold out, making way for the ultra-limited "Extra Filthy Bloody" Edition.
Check out some pictures on the toy company's website.