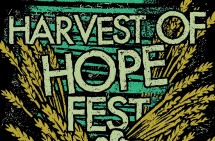 Fail Safe Records have announced a special live double CD to benefit Harvest of Hope.
Like the festival that shares it' name, the disc will feature live and studio performances from Against Me!, Bouncing Souls, The Casting Out, Propagandhi, Bridge and Tunnel, Joe McMahon of (Smoke or Fire), Virgins, Strike Anywhere, New Bruises, No More, Flatliners, Austin Lucas, Fake Problems, Monikers, Bomb the Music Industry!, Gatorface, Assassinate the Scientist, Less Than Jake, Anchor Arms, None More Black, Underground Railroad to Candyland, Ninja Gun, Cutman, Onslaught Dynamo, Rehasher, This Bike Is a Pipe Bomb, Spanish Gamble, Tim Barry, Static Radio NJ, Grabass Charlestons, Mouthbreather, Coyote Throat, Whiskey & Co., O Pioneers!!!, Paint It Black, Young Livers, Cheap Girls, The Shaking Hands, Laserhead and How Dare You.
Due out January 12, 2010, the first disc will feature live recordings and the second studio recordings.
Disc 1: Live
Phil and Ed Kellerman Intro
Against Me! - Pints of Guinness Make You Strong
Bouncing Souls - Gasoline
The Casting Out - Lullaby
Propagandhi - Anti-Manifesto
Bridge and Tunnel - Call To the Comptroller's Office
Joe McMahon (Smoke or Fire) - Cryin' Shame
Virgins - Guitarnageddon
Strike Anywhere - Invisible Colony
New Bruises - Transmit Transmit
No More - Radiation Tower
Flatliners- July! August! Reno!
Austin Lucas- Go West
Fake Problems - Sorry OK Sorry/ Born & Raised
Monikers - Over
Bomb the Music Industry - Even Winning Feels Bad
Gatorface - The Cleaner
Assassinate the Scientist - Lorenzo Music Never Made It
Disc 2: Studio
Less Than Jake - Summon Monsters
Anchor Arms - Rusty Nail
None More Black - Oh, There's Legwork
Underground Railroad to Candyland - Suey
Ninja Gun - Eight Miles Out
Cutman - Tough Love
Onslaught Dynamo - Stand
Rehasher - No Eye In Team
This Bike Is a Pipe Bomb - Jack Johnson
Spanish Gamble - From the Corazon
Tim Barry - Church of Level Track
Static Radio NJ - Kill The Harmony Master
Grabass Charlestons - Dale
Mouthbreather- Daily Bread
Coyote Throat - The Cause
Whiskey & Co. - A Drink For You
O Pioneers - Limp Bizkit's Greatest Hits
Paint It Black - Past Tense, Future Perfect
Young Livers - Non Monumental
Cheap Girls - Ft. Lauderdale
The Shaking Hands - Pave the Planet
Laserhead - Overdriver
How Dare You - Beacon St.