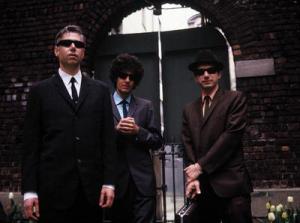 Black Book Magazine unearthed a real rarity by finding a public access show from 1983 featuring the original, four member Beastie Boys. The show, the Scott & Gary Show, was a public access show available on community access in the 1980s. For their 1984 Valentine's Day show, they had on the Beasties.
For those curious about the fourth member, the drummer is Kate Schellenbach of the Lunachicks and Lucious Jackson. The live segment aired after the released of their hardcore-oriented Pollywog Stew and hip hop/punk crossover EP, Cooky Puss and predates Licensed to Ill.
You can check out the segment before the performance, and the performance itself.