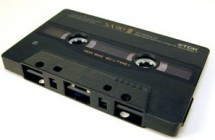 Quartery music/entertainment magazine Ghettoblaster Magazine has posted their mixtape for Issue 23 online. The mixtape features thirty-five free songs from Lou Barlow, Califone, Vortis, The Oranges Band, Brother Ali, Mission Of Burma, Gift of Gab, a new song from Dr. Frank of The Mr. T Experience for his latest novel, and more.
Each song coincides with a feature story found in the issue. You can find the mixtape on the magazine's website here.
(Copy editor Jesse Raub was previously the web editor for the magazine, and is currently a columnist on their website).