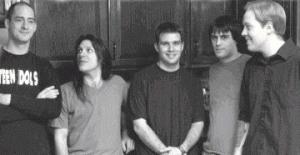 The Punk Site has posted a lengthy interview with Ben Weasel and Dan Vapid of Screeching Weasel. Among the topics discussed were upcoming shows:

"We're doing a show in Philly in April which is being announced in a couple days once we get back from here and we're doing Screeching Weasel one night and the Riverdales the next. A lot of the time with these fly-ins, the idea is to try and do that if they'll make an offer for the Riverdales because we want to do both bands and they're essentially the same members minus one guy. We don't have anything confirmed yet, we're looking at probably Toronto in May or June, possibly Orlando, possibly somewhere on the West Coast."
The band also revealed details about some new material in the works:

"We have set aside March to work on demos. I mean a lot of the songs that I imagine will end up being on the album are written; but I also imagine we're going to write some more stuff and demo some stuff. I have probably about a hundred and twenty bits and pieces of songs that I've been going over and over; Vapid's gone over them as well."
Also discussed was the band's switch from Asian Man Records to Recess Records:

"I don't know. You'd have to ask their (Asian Man) employees who seem to relish in running around the internet spreading rumours about it - total fucking bullshit by the way. The only thing I'm going to say about it is that there were some severe personality clashes and if I ever had any fucking doubt whatsoever about leaving that label, those doubts would've been erased completely by watching the reaction of the people at that label once we left. Because it didn't take a hot minute before their employees were running around the internet fucking flinging the shit and I'm not going to do the same. I won't do it. I'm not going to say anything more about it than that. But all I'll say is I'm not going to work with those type of human fucking beings; and that's all I have to say about that.
Check out the rest of the interview here.