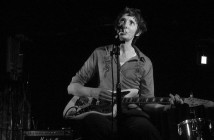 Sad news out of Melbourne, Australia, as guitarist Rowland S. Howard passed away yesterday from liver cancer. He was 50 years old.
Howard joined the Nick Cave-fronted The Birthday Party (then known as The Boys Next Door) in 1978 and was a guitarist and songwriter for the band until their breakup in 1983. Howard's playing style was known as aggressive, and laden with distortion and feedback. After The Birthday Party's breakup, Howard played in Crime and the City Solution in 1985-86, fronted post-punk outfit These Immortal Souls from 1987 to 1998 and released two solo albums: 2000's Teenage Snuff Film and Pop Crimes, released in October of this year to heavy critical acclaim.
Our deepest condolences go out to Howard's family, friends and fans.