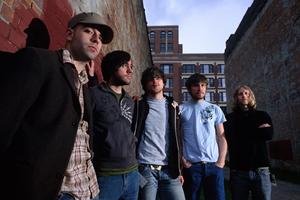 Equal Vision Records has announced plans to release the entire discography of Circa Survive on vinyl. The first piece of the puzzle is a 7" of b-sides on clear vinyl with a hand-stamped label, viewable here; all proceeds from this 7" will benefit the recovery of Trent Jacobi, who was injured in October 2009 while on tour with Fear Before.
The label will then press the rest of the band's output -- 2005's Juturna and The Inuit Sessions, and 2007's On Letting Go -- over the next two months. Each release will be limited to 1,000 copies.
The band recently signed to Atlantic Records, with their major label debut expected sometime in 2010.