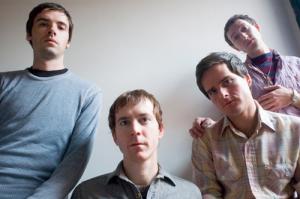 Aloha has posted the song "Moonless March" on Stereogum from their upcoming album, Home Acres, due out March 9, 2010 on Polyvinyl Records. Singer/guitarist Anthony Cavallario had this to say about the song:

I imagine the "Moonless March" as these people who are going around rebuilding some sort of wrecked world, getting their hands dirty, one place at a time. But it could be any task or mission. It's also supposed to be March (the month), the bleakest, most challenging month of the year as far as I'm concerned, waiting for the cold to break and the sun to come out for good.
You can find the track here. The band last released Light Works in 2007.