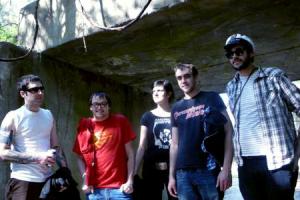 The Measure [SA] are wrapping up their next full length, a 14 song collection titled Notes. The album was recorded with Chris Pierce at Technical Ecstasy in Milltown, NJ in the Fall of 2009. It will be the band's first for Florida's No Idea Records and should be available by the summer. Singer/guitarist Lauren Denitzio commented on the direction of the new record:

2009 was a hard year, let's put it that way. I think it shows loud and clear on this record. These songs, for me, are definitely about a place and a time and were my way of working through the whole spectrum of things from being in love, to not knowing how to handle that, to life threatening illness, abusive relationships, to hating New York and my place in it. The record is louder and faster than our previous ones, and we know that we definitely became a more aggressive band. There are some of the most upbeat and optimistic songs we've ever written along with the most pessimistic. I love this record, and I think it's the equivalent of a lightbulb going off over our head, musically. This is what we were always supposed to sound like.
The Measure [SA] will tour to and from the Harvest of Hope Fest in St. Augustine, FL. They'll be sharing the stage with bands like Shellshag, Small Brown Bike, O Pioneers!!!, Cheap Girls, Defiance, Ohio, and The Menzingers.
| DATE | CITY | VENUE / WITH |
| --- | --- | --- |
| 3/5 | Brooklyn, NY | Cedar Mansion w/ Shellshag, Stupid Party, Marxists |
| 3/6 | New Brunswick, NJ | Bosnia |
| 3/7 | Baltimore, MD | The New CCAS w/ Dead Mechanical, Quarantine |
| 3/11 | Gainesville, FL | Common Grounds w/ Small Brown Bike, O Pioneers, Cheap Girls, Grabass Charlestons |
| 3/12 | St. Augustine, FL | Harvest of Hope Fest |
| 3/13 | St. Augustine, FL | Harvest of Hope Fest |
| 3/14 | Tallahassee, Fl | Coolfornia w/ Sleeping Spiders and Tiny Teeth |
| 3/15 | Birmingham, AL | Magic City Wholesale w/ We Are Alive |
| 3/16 | Nashville, TN | Little Hamilton w/ Defiance, Ohio, The Riot Before, Cheap Girls |
| 3/17 | Ashville, NC | Static Age Records |
| 3/15 | Wilmington, NC | The Soapbox |
| 3/16 | Richmond, VA | Alex's House |
| 3/17 | Philadelphia, PA | Terrordrome w/ The Menzingers and Highlights |