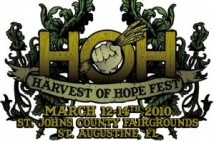 Starting tomorrow afternoon, hundreds of bands and thousands of people will converge on the small agricultural town of Elkton, FL, just outside St. Augustine, for the second annual Harvest of Hope Fest. The three day event will raise funds and awareness for the Harvest of Hope Foundation, a wonderful organization that aims to provide migrant farmworkers with emergency relief and financial assistance. Bands scheduled to perform include Billy Bragg, Leatherface, Small Brown Bike, forgetters, 7 Seconds, Broken Social Scene, The Mountain Goats, A Wilhelm Scream and dozens of others, but for those unable to make it, Punknews.org will be bringing you (maybe) the next best thing with live coverage of the festivities all weekend.
Yours truly will be, as far as I know, the lone Punknews staff member attending. Here's what you can expect this weekend and beyond:
Mixed media dispatches featuring photos, video and words, likely to be posted on Saturday, Sunday and Monday
Tons of photos. Be sure to check out the Punknews.org flickr group as well as my personal flickr account throughout the weekend for updates
Plenty of video of your favorite bands performing live. The Punknews Vimeo page will be updated throughout the weekend with high-quality video
Our social media editor Justin has been kind enough to grant me access to the Punknews twitter account, which I'll be updating incessantly from the fairgrounds
More!
I look forward to seeing plenty of old friends, meeting as many of our readers as possible, watching an unholy amount of live music, and eating as much greasy food as my stomach can handle, and all for a great cause. Now let's just hope the weather holds up on Friday. Look for updates to start tomorrow afternoon.