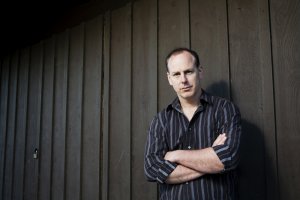 Details on the upcoming book from Bad Religion frontman Greg Graffin have been unveiled. The book is titled Anarchy Evolution: Faith, Science, and Bad Religion in a World Without God and was co-authored by Steve Olson. The hardcover edition, slated for an October 5th release, clocks in at 224 pages. HarperStudio is publishing the work.
In an interview on the publisher's website Graffin comments on his plans to promote the work on Bad Religion's upcoming 30th anniversary tours:

I would like to meet as many people as possible who are interested in evolution and the worldview they take from it. For that reason, I hope to appear in many bookstores, coffee shops, and speaking venues on the same days that we play concerts in cities all over the world. What a privilege, talk about the issues during the day, sing about them at night. It's a dream come true!