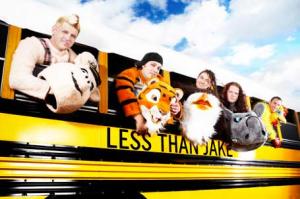 Penning lyrics, books and running a record label doesn't give Less Than Jake's lyricist and drummer Vinnie Fiorello much time to slack off. But it does offer plenty of fodder for discussion. Punknews' Zack Zeigler recently spoke with Fiorello about his approach to being the boss at Paper+Plastick, why leaving Fueled by Ramen was his only choice, missteps that helped shape his band and current label's successes, his future as an author and what to expect from ska-punk mainstays LTJ in 2010.
Paper + Plastick launched in May 2008. Why did you start the label and what is your philosophy behind it?
Ultimately, I didn't believe in the bands we were signing at Fueled by Ramen and I wanted to do something that was a 180 from that. The thing was, at the time I left, Fueled by Ramen was a machine. There was Fall Out Boy, Gym Class Heroes, Panic at the Disco, and then there was a string of bands after that I didn't want to be involved with. With the fucking music industry in shambles, why not, sort of, go out on top, you know? And I wanted to do something with friends and musicians I respected that was more organic.
What are some of the elements that differ between the two labels?
Without getting too heavy handed, I believe the shelf life of a CD is waning, so I wanted to do a digital and vinyl focus that incorporated the art and artistry of the release instead of a faceless, traded MP3 file. I think vinyl is a good vehicle for art, and I miss the days of pouring over a thanks list or lyrics sheet. Without the thanks list, I think I would have missed out on half the bands I currently still love.
How difficult was it to walk away from Fueled by Ramen?
It wasn't making me happy, so I had to sever it, but it was hard. There's a reason it's called Fueled by Ramen, I was dirt-poor going to college, living with Chris [Demakes] and Roger [Manganelli] and putting the money I should have used for food toward putting out records and Ramen [noodles]. It's tough to walk away from something you named and that you believed in, but it came to the point where I couldn't stay.
But you got paid, right?
Whenever I grandstand like that there are people who bring that up. I did get paid. I put a lot of hard work, blood, sweat and tears, so I sold it when I left. I didn't just leave it on Warner Bros. doorstep and say, "Here you go. You can just have my baby."
How hands-on are you at Paper + Plastick?
I oversee everything. This year, there will be a lot of records, but I look at it this way, as long as I enjoy doing it, I'll do it. And being in a band for a living with Less Than Jake, it gives me a lot of time to handle Paper + Plastick at this stage with the size of the label. It's a lot of work on some days, other days it's no work at all.
Becoming the boss, was that easy transition for you?
You don't have to be a dick to make a logical decision. As long as you openly communicate about expectations, nobody has to slam their fist down. One of the things I decided early on with Paper + Plastick was that I didn't want it to be my way or the highway. It wasn't about giving me a whole bunch of things and then getting a small thing in return.
Did past battles with labels like Capitol and Warner Bros. help shape this mentality?
Of course. If you put yourself out there, sometimes you'll get the door shut on your face, and it's been shut on my face quite a few fucking times. But I treat people how I want to be treated. That's how I try to live, and it's what I take into Paper + Plastick. If you're being a dick, people will be dicks back. It's not fair to put younger bands in that situation, either. I don't want to create an, "us versus them" mentality.
So, mistakes you've made or experiences you've had helped you understand a management method that works?
I've fucked up more than my fair share and I've learned from that, if that's what you mean. Less Than Jake was a huge learning curve, as was Fueled By Ramen. But we've been a band going on 17 years, so of course we've had massive missteps. Mind you, I don't think they were ever crippling mistakes, but we've fucked up before. It's human to fuck up. You just learn from them and take it as it comes.
What's something business-wise you've learned from your time with Less Than Jake?
We released a record on an independent because we were friends, and it drifted into another thing when we didn't get paid on the first part of it. That was a big lesson, "Just because you're under the flag of 'punk rock' or 'independent' doesn't equate to being trustworthy."
Is the record you're referring to Borders and Boundaries?
No, Fat Wreck Chords is great. They did exactly what they said they would, and that's awesome. I've always respected [Fat] Mike's honesty. We sent him Borders and Boundaries after we got out of Capital Records and he was like, "Well, it's a good record, but it's not your best." You never think someone will be as honest to your face and tell you it's not your best record, especially the guy who is going to put it out. I respect the shit out of that. I've always taken that with me, and I tell bands exactly how I feel. There was a demo that came in recently and I told their manager, after he asked for my thoughts, "I think they need to rewrite some songs. It's not a record. It's almost a record and some songs are really good, but it's not a full record." That honesty jars people sometimes. They're expecting, "This record is the shit! It's the greatest thing since marshmallows." And sometimes it's not.
Which bands on Paper + Plastick do you think people should be paying more attention to?
Without being too self-serving, I think every person who likes punk rock should listen to A Wilhelm Scream. Not only are they super-cool dudes, but they're amazing on their instruments and write fucking great songs. If you like melodic hardcore, we're putting out a We Are the Union record in March, which people describe as Set Your Goals meets Less Than Jake. I think that's a fair description. Spanish Gamble is a melodic punk bank from Gainesville, my hometown, and they're cool as well. Cheap Girls are also a daily listen for me.
You wrote a book titled Sometimes Robots Like Being Robots. How difficult was the process and how much time did the idea take to come to fruition?
They're about a half-dozen sites out that, for minimal pricing, will help you publish a quality book. It's pretty easy to do. My advice, anyone who has an inkling to ever write a book should put a pen to paper or fingers to keystrokes and go do it.
That said, we continued to write during Anthem - which is how B Is For B-Sides came about - and I started to jot down different stories while we were on planes or cabs while touring. After looking through what I wrote, there were probably seven or eight short stories about robots. So I grouped them together, put it away, found it again, rewrote some, wrote more and dove in. I'd say it's geared more toward young-adult, not young kids, because it involves deeper thought than the ball is red or the ball bounces against the wall.
How involved were you with the art in the book?
I sketched out what I wanted and attempted to do the art, but I couldn't make my hands do what was in my head. So I asked a friend of mine, Erik [Davidson], to take the ideas and sketches, and he knocked it out of the park.
Any other book projects on the horizon?
I have two going, and I don't know if they'll ever see the light of day. One is kind of a tour journal, but it's more short stories about people and places from being on tour. It's not a straight up "journal." The other is a book is a collection of the lyrics I've done throughout Less Than Jake. There will be explanations based on what the songs were about. Like "9th at Pine" was about a fight that Mike Park and I had broken up in the back of a club in Portland, called La Luna. It's a backstory that nobody would really know, but the song is based on that event. I'm slowly getting those things together, but I'm in no rush to get them done. I've even considered putting it online and posting a few pages at a time. Basically, just keep on adding to it until it's done to let people see how the thought process comes on. I haven't decided yet, though.
Rehasher and Coffee Project are bands featuring Roger and Buddy [Shaub] from Less Than Jake. Any thoughts on their efforts?
I put out the vinyl version of the latest Rehasher record High Speed Access to My Brain]. I think Rog took a long time on recording it and it shows. If people aren't hip to Rehasher, they should take a listen if they like mid-90's-Fat Wreck-punk-rock style. Some of the songs on there are great, man. I'm stoked we could work together in that way outside of Less Than Jake.
Coffee Project just finished tracking their full length, and if you like the 10-inch you'll love the full length. It went from being a hobby to growing into its own. Paper + Plastick will put that out in the future, we're not exactly sure when yet. But those guys, that's their outlet. Me being overly involved in that would be too much. People want to do things outside of the normal, which includes being in Less Than Jake, so I try not to dive into other people's stuff.
Any Less Than Jake updates? Tour news? Tidbits? Anything?
Our intension is not to tour the United States until next year. That's the longest we've ever gone without touring the U.S., but we're planning on going out of the country and doing some one-offs. Maybe some weekends in weird towns and writing some new songs.
Were you happy with GNV FLA?
Yeah, I was stoked, and people seemed to dig it. Of course, there were people that were like, "There's so much more horns!" And yes, compared to In with the Out Crowd there was. But you can't duplicate earlier things, like a Losing Streak, because people will say, "It sounds just like Losing Streak." So, if we continue to do what we do and just be Less Than Jake then there's no real headache or bullshit involved.
Any hints on the direction you're thinking about for the next LTJ record?
The last record we put together without outside interference. I think we'll continue in that headspace. We've talked about it briefly, throwing some surprises in there. And no, I don't mean a power ballad record, but some fun things to keep people who like our band interested and to keep ourselves interested as well.