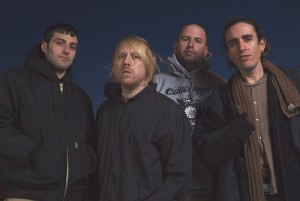 Long-running hardcore act 108 have decided to stay together. The band had originally revealed last month they would be breaking up, largely as a result of frontman Robert Fish no longer believing in Gaudiya Vaisnavism, otherwise known as Hare Krsna.
In a new message posted on the band's Facebook page, however, the band stated they will go on without Fish:

"In the long year which followed [the recording of our new album] we began discussing the ins and outs of breaking up or not or how, etc. Finally, just before the record was to be released, Robert decided that for both practical and ideological reasons, he just didn't want to be in 108 anymore; and the effective-date was immediate.

Eventually, the remainder of the band decided that we desired to keep doing 108 even though Robert did not. We realized that we could try to do the band, but that without Robert we would need to go in a very new and different direction sonically and, to some extent, ideologically as well. Robert's contribution to the band was so vast and touched so many aspects of 108, that we fully realize can not "replace" him. We don't plan to try. Instead, we will do something very different from what we did as a band with him.

Whether you like it or not is up to you.

We will like it. If it turns out that we don't we will end it.

It is still called 108 because it is still about what 108 is all about. If this doesn't make sense to you, I apologize. It makes sense to us."
That record in question is the upcoming 18.61, due out April 13 via Deathwish. The album was recorded back in February 2009. The reshuffled band states they are writing new material.
The band had initially formed in 1991 and first broke up in 1996 before reuniting in 2005.