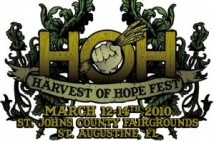 The Harvest of Hope Festival recently wrapped up its second annual weekend of music in support of the Harvest of Hope Foundation. With acts ranging from Billy Bragg to Dead Prez and three days' worth of punk bands in between, the festival has quickly found a place in the punk community as the spring break destination for charitable music fans.
Punknews interview writer, Sarah Collins, recently conducted an in-depth look at the people behind the scenes and on the stage at Harvest of Hope Festival. Tuesday's story focused on the beginnings of the foundation, yesterday's looked at the people it effects. Today we bring you the story of how the festival came to be.
Want to help out? Why not check out some items being auctioned off for Harvest of Hope through eBay. You can do that here.
How the guys behind the Fest and No Idea Records turned Harvest of Hope into punk's most popular foundation.
Outcast communities have to care for themselves. That's the reality of working for a genre of music most people stopped listening to when they sold their skateboards at age fifteen. But that hasn't stopped most punk fans from reaching outside of their communities to help others who exist further from the center circle. Food Not Bombs has long been the standard charity for accomplishing this. Tom Gabel started a chapter when he was a teenager to help out Florida's migrant population. Tim Barry knows that the assistance goes both ways. "I've spent a lot of time hitchhiking across the country," he says. "It's rare that a work van full of Mexicans won't stop and pick you up." Even when the van is full and there's no room for him, Barry says migrants will find a way to help. "They way they see it is we're all the same."
The punk rock community is who Murphy turned to asking for help with a few benefit shows when bands had the time. It didn't take long for it to become a favorite cause, and for the benefits to grow.
"Basically the punk rock, alternative music business has saved the foundation," says Kellerman. His co-philanthropists are often surprised at where he gets the majority of his funding from, but Kellerman sees no disconnect between the two. "The progressive music industry gets it because it's grassroots music, it's music that's raw," he says. "What we're trying to do is a non-corporate response to helping a really deserving population."
Kellerman knows that not everyone expects money from mosh pits. "We've just gotten a tremendous response from this genre of music lovers," he says. "The fact that they play very hard, they have nose rings and tattoos, well, they're happy."
But for Murphy and his friends to make the difference the foundation needed, they had to start thinking about something bigger.
"It wasn't my decision," says Murphy with a laugh. He blames the creation of Harvest of Hope Festival on Against Me!, though Gabel denies any part in the decision making. The band was supposed to come back to Florida and play a small benefit show in St. Augustine, but the local booker had other ideas. Ryan Dettra, who is responsible for booking Café 11 and the St. Augustine Amphitheater, had a new 90-acre outdoor space used for rodeos and state fairs. "Ryan Dettra was like, look, this would be perfect to do an outdoor festival," says Tony Wienbender, founder of The Fest, Gainesville, Fla.'s three-day annual beard-punk party, and one of the co-curators of Harvest of Hope Festival. Dettra wanted to know if Murphy would be up for a three-day outdoor festival. "He just started running with it," says Murphy, who was hesitant to do such a big event. "I was like, 'Well I don't know about that, man.'"
Dettra says Murphy didn't take any convincing. He turns the blame back around, saying that Murphy came to him looking to stage a large benefit. Either way, the two talked it out, and then recruited Weinbender to help with the planning. Murphy says Tony and him were both excited to do something different from The Fest. With Dettra's help, the two applied to the St. John's County Board of Commerce for a grant. The committee gave them $50,000 in start-up and advertising money, and the show was underway.
"I sent out massive emails basically guilting people into doing this," says Murphy. The emails were mostly successful, and the festival started building up a core group of punk rock bands, most of whom Murphy knew personally. Dettra contacted larger indie and rap bands like The Mountain Goats and GZA, and tickets began selling.
Not all of the bands took much guilting. Propagandhi's Chris Hannah says the festival was something he wanted to play in a show of solidarity with migrant farmers. "I always try to put myself in other people's shoes," he says. "If I were stranded on the bottom rungs of the economic ladder in North America, with no legal or logistic recourse, I would hope somebody in the richest nation on Earth would bother to lend me a hand." Booking Propagandhi added some cachet to the festival and helped Murphy convince other bands to get behind the cause. But it didn't make the rest of the festival any simpler.
Tim Barry, who does lighting for concerts when he's not on the road, knows the behind-the-scenes work that went into the first festival. "The expenses of building stages, hiring police officers, lighting, tying in the dimmer racks, tying in all the generators, x amount of Port-a-Potties for x amount of people, it's a phenomenal task," he says. "And that doesn't even touch the amount of work put in to create the lineup, to confirm the bands, to make sure the bands get there, to make sure everybody has food. It's nearly mind-blowing."
Murphy admits he was in over his head. The two had never been to the multi-day outdoor music festivals like Bonnaroo and Langerado that draw well over fifty thousand fans every year. "We didn't really know what people expect." According to Murphy and Weinbender, it was Dettra who taught them the extra steps necessary for an outdoor festival. The work paid off. "It was great," says Dettra, who then qualifies, "it's a first-year event."
Festivals are notorious money losers in their first year, especially at this size. That's compounded by Murphy's and Kellerman's refusal to accept corporate sponsorships that are not in synch with their ideals. "There were some corporations that came after us last year," says Murphy, "ones that made us feel extremely uncomfortable." Murphy says the festival will never deal with sponsors like Nike or Taco Bell, which they see as out of line with the foundation, despite their offers. They also won't allow Harvest of Hope to take on the shopping-mall vibe of other festivals. "We understand we need the money," says Murphy, "but we're also not wanting to look like idiots and not wanting the cause to look foolish." Murphy relies on talented friends for designing ads and screen printing T-shirts, and partners only with companies that he feels share his beliefs. But most of the companies with do-it-yourself ethics don't have the big money necessary to pay for stages and staff.
The festival managed to survive its first year without taking on unwelcome advertisers, but barely. "Everyone says you're going to lose your ass," says Murphy. "We didn't lose our ass, so that's good." But there were complications. "Financially there were some hiccups," he admits. The biggest hiccup is that the festival wasn't able to raise any money for Harvest of Hope. The 17,000 attendees didn't quite set them into the green, so Kellerman didn't receive any cash. He seems unperturbed by this. "The publicity we received from it, we couldn't have bought that kind of publicity," says Kellerman, typically optimistic.
The publicity wasn't the only successful part of the festival. "The spirit of the festival was pretty overwhelming in a positive way," says Barry. "You could feel a vibe there that you don't normally feel at events similar to that. I would challenge anyone to go to the Warped Tour and tell me that they got the same feeling as they got at something like Harvest of Hope."
Not that he's naïve about why people came to the festival. "Let's just face it; most people who go to an event like that which features enormous bands like Against Me! and the Bad Brains are not well-educated in certain aspects of current events, but then they leave with that knowledge," says Barry, who likens it to the Washington D.C. shows he used to see as a kid, the ones he never left without a handful of pamphlets.
Murphy knows that most people don't come to the festival, or the benefit shows, because of the charity. "We get a lot of those people," says Murphy, "who just like going to festivals and getting weird and being outdoors and not having to be responsible except for partying and going to see bands." But like any good opener, Kellerman uses the opportunity to convey as much about his cause as he can in a short period of time. Unlike the Against Me! acoustic show, however, he doesn't have to rely on his stage presence alone. Kellerman manned a tent throughout the three-day festival, though a bad location and an unruly crowd limited his success.
Still, Barry says, "It was clear that this was to raise awareness and money for a great organization, as opposed to the commoditization of music."
Murphy aimed to build on the successes and fix the flaws from Harvest of Hope 2009 this March. He and the other organizers redesigned the festival, putting more of a focus on the not-for-profit booths. They were also able to get bigger acts, like Billy Bragg and Dr. Dog, thanks to the success of last year's festival. The notoriety had some bands signing on before the 2nd festival was even announced. "Anti-Flag, I don't know those guys at all, but right off the bat they got in touch and were like, 'We have to be part of this,'" says Murphy. He had hopes to double 2009's turnout with bigger headliners and better recognition, but the festival still couldn't meet Kellerman's one desire -- to make some money.
Once again, the festival hovered around breaking even. "We didn't do as good as last year," says Murphy about attendance. "We did maybe a couple thousand less."1 With so many people out of work or struggling, fewer fans can afford destination festivals. "Once we got hit with that, across the board it was hard because the beer sales were down, the camping sales were down, stuff like that," says Murphy.
The recession also made it difficult for sponsors to donate the big money that makes festivals profitable. "People love to want to be part of it, but then they also have limited funds," says Murphy. The publicity from last year's festival helped spread the name, but unfortunately that didn't translate into dollars.
"Two years in a row when you're just kind of squeaking by, it gets pretty exhausting for all the people involved, putting so much time in it," says Murphy. "But that being said, I'm definitely not pessimistic, I'm not bummed out. I'm more just trying to make-do with the situation." He plans to give it at least one more go before giving up. "Everyone involved is still positive about it, everyone involved loves to do it and has a passion for it, so we just try to figure out ways to keep it happening," says Murphy. "We have such an awesome formula for a really successful festival and to help raise money for Phil."
While the second year may not have seen big profits, Murphy did accomplish one of his goals. "Most of my time was spent with people coming up, just thanking the foundation and all the people involved in putting together such a great festival," says Kellerman.
Murphy's planned non-profit village raised awareness for Harvest of Hope. "Everybody seemed to be getting it, getting the bigger picture, and people were having conversations about what the festival was about," he says. Both Murphy and Kellerman claim that more attendees were familiar with the cause and wanting to support it, rather than just coming for the bands or the festival atmosphere. More of the musicians knew about the foundation as well, and were able to speak about it in their sets. "There were so many bands—from big acts to small acts—that were saying stuff from stage and saying stuff that was really right on," says Murphy.
There's also the possibility that events around the festival will make money for Harvest of Hope. The foundation was selling t-shirts at the festival, and they launched a texting campaign so supporters can text HOH Fest to 20222 to make a $5 donation. Murphy and his friends were also raising money outside of ticket sales. "We're still doing some fundraising attached to the festival, like auctioning off guitars that are autographed by all the artists," says Murphy. Fail Safe Records put out live CDs from Harvest of Hope that have brought Kellerman $3,400 and counting, and bands from the festival have organized their own benefit shows around the country. "People just attach themselves to the cause and kind of run with it," says Murphy. "As long as that keeps going that makes me feel good and kind of gives me momentum to keep doing it.
Kellerman is also optimistic, despite not making money. He goes for his standard bright-side outlook. "We're getting millions of dollars in free publicity," he says. "We just hope this translates into more donations for the foundation so we can help more migrant families."