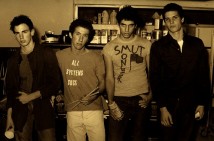 Bad Religion's Brett Gurewitz revealed some more details about the band's forthcoming free live album, mainly surrounding technical details. First, the album will be released in lossless formats including FLAC, Apple Lossless, VBR MP3, VBR AAC and 320kbps MP3. The album will include relatively little artwork, mainly just a cover to show on your iPhone, iPad or whatever this is.
Songs were left untouched wherever possible, with editing and overdubbing at an absolute minimum so the record is a "very pure live recording." Mixing was handled by Mike Fraser at The Warehouse and mastering is still underway. A CD release is not planned (though you could concievably burn the FLAC or Apple Lossless to CD for the identical experience) but vinyl may happen later in 2010.
Thanks to The Bad Religion Page for the details.