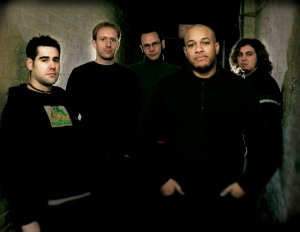 Whether you like them or not, one thing about Killswitch Engage can be said for sure: they have a solid fan base -- one that will attend their shows with the same feverish excitement and energy even though their operatic singer, Howard Jones, is sitting out the tour. The March 19th show featured not only All That Remains singer Phil Labonte but also original Killswitch Engage vocalist Jesse Leach on seven songs from Alive Or Just Breathing. This was his first time performing with the band in nine years and he was STOKED. Punknews interviewer Jason Epstein, sat down with guitarist Joel Stroetzel (and found out that his last name does indeed rhyme with "pretzel") to have a conversation in Irving Plaza's dressing room just a few feet away from a friend who was getting a tattoo done. Wait for it…Metal.
Describe what metal means to you in three words.
That'd be fast, heavy and loud.
Oh hell yeah. What's it like to be in a band that can play at both Warped Tour and Ozzfest, still fitting into either scene?
It's kind of bizarre man, we're kind of a strange band when it comes to style -- we obviously have the metal and hardcore elements but then there's the rock and kind of emo stuff too. But, you know, there's a lot of melody in a lot of our stuff. It's kind of weird; we're in a weird spot. A lot of people say, "Hey, you guys aren't real metal," and we're not, but there's something to be said for that. We could maybe work the shows into other places if we were a lot heavier or a lot more mellow.
I hear you guys are on the soundtrack of the new God of War game? Sounds pretty brutal, tell me about the song "My Obsession."
That's actually one that we kinda had kickin' around for the last record that we just recorded. A bunch of stuff was kickin' around, more than we had room for on the record so we were like maybe we could use this for a B-side or a soundtrack or a video game or something and the opportunity came up to be on the God of War soundtrack so we're happy we finally get to get it out there.
And you guys are gamers, or just a couple of you?
A couple yeah. I'm not so much…Mike and Howard big time.
What new music have you been into lately?
Oh, let's see here. I like the new HIM record a lot, I was always a fan of those guys. [It's that] glammy, yet doomy melodic stuff…I like it man. I'm tryin' to think what else is new that I've been listening to…the new Dark Tranquility record I love those guys. Yeah, beyond that as far as metal it's all kind of the same stuff. I love the At The Gates records, Carcass, In Flames and stuff like that. Those are always like my favorite bands that I kind of draw influence from.
What was the reason for self-titling your newest record when it had already been done with the first one?
It's a combination of laziness and not being able to pick a title track or feeling that there was a song that should be a title track. It was strange because it was the first time we worked with a new producer. The whole process was weird to us and foreign and new and it was like maybe in some way we were starting from scratch again so we said, "Hey, let's keep it simple and self-title again." We weren't sure if it was gonna be cool or if it was gonna be cheesy and we've got some mixed reviews on that decision but it is what it is, you know?
I hear that Phil Labonte, who is currently filling in for Howard, actually tried out for Killswitch Engage years ago, it's funny how things work out with him part of All That Remains and getting to sing for Killswitch on a tour.
Yeah very strange man, very strange. We all wanted to ask him to be in the band and there was a little bit of a conflict of interest because we were friends with All That Remains and we didn't want to screw them over and plus we thought if we're going to start fresh we should go in a completely different direction and Howard was very unlike any other singer we tried out. He was just cool and unique and [we said], "Let's just go for it if we're gonna do this."
Howard dropped off the tour over a month ago. With respect, is there anything at all you can tell fans regarding this?
Oh it's really just a bunch of personal issues man. There's health stuff, there's family stuff, that all kind of hit at once. Howard is a pretty private guy so we didn't even know this was happening. Basically we started the tour and shit kind of hit the fan and we're like, "Okay obviously you're in a bad spot man. Why don't you just go home for a bit and figure it out," and we didn't know if it was going to be a week or the whole tour. Things went really well with Phil, he stepped in and we said [to Howard], "Tell you what man, the shows are going good why don't you sit this one out we'll get through it and you'll have some time to clear your head and get situated." There's a lot of stuff we're not even really sure cuz' like I said he's such a private guy. We're trying to pick his brain and get him on track.
What's the last concert you went to?
Alice in Chains, awesome. I very much enjoyed it.
What's the worst interview question you've ever been asked?
Oh, there's been some good ones man…or bad ones I mean. I think someone asked me what my favorite color teletubby was. The absolute worst one was, "Do you think you could beat up Justin?" Number one I don't fuckin' know, I'm not much of a fighter, I don't think Justin is either and I don't think either of us are really interested so I don't know how to answer that.
That's some real journalistic integrity right there.
Yeah man, that was awkward.
Is there anything else you'd like to say?
Especially after this tour we'd like to thank everyone that actually stuck with us and came to the shows despite this crazy scenario and it really makes us feel like we have some awesome fans out there.