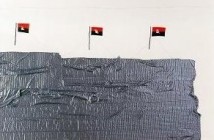 With their new album, Diamond Eyes, out today, Deftones have unveiled a bunch of new content and also announced an hour long global webcast live from Dallas for today. The band will perform live and take questions from fans who log into ustream beginning at 5pm PST / 8pm EST.
The band has also released one of the b-sides from the deluxe iTunes edition of the album, a cover of Drive Like Jehu's "Caress" which originally appeared on Drive Like Jehu. You can find that on Buzznet.
Finally, the band has posted the EPK for Diamond Eyes and that is available here.
If you don't like all those things, watch this instead.