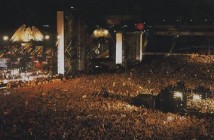 England's Frank Turner has announced that he will be opening up for Green Day for two UK shows next month. The songwriter wrote a brief note talking about the significance of being able to perform at the legendary Wembley Stadium and the influence of the famous Tribute to Freddie Mercury:

[It] as a major musical milestone in my life. My older sister made me watch it with her, and we taped the whole thing over a number of VHS cassettes (swapping them over as fast as possible so as not to miss anything). I was 10 years old, I'd just started finding out about music, but seeing Metallica, Guns n Roses, Spinal Tap (!) and a host of others playing Queen tunes was a major eye-opener for me. We watched those tapes till they broke. So for that reason and a million others, I'm pretty blown away to say I'll be opening for Green Day at Wembley Stadium (and Manchester Cricket Ground) in June. The world has gone mad.
Frank also notes a few solo shows, festivals and a date opening for the Gaslight Anthem in their hometown of New Jersey.
June 16, 2010
Manchester Cricket Ground
Manchester.
Green Day
June 19, 2010
Wembley Stadium
London, England
Green Day
July 9, 2010
Ruisrock Festival
Finland
July 14, 2010
Komedia
Bath
July 31, 2010
Lowertown Festival
St Paul, MN
August 5, 2010
The Stone Pony
Asbury, NJ, USA
The Gaslight Anthem