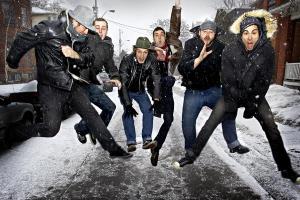 Paper and Plastick has announced a summer 7" series, planning ten releases under the banner this year. The label is touting that each release will include "etched B-sides, elaborate artwork, and multi-color vinyl."
The first release will feature Pittsburgh's Anti-Flag with their The Second Coming Of Nothing 7", featuring the new song "Queens and Kings." The record will be available in white or rainbow vinyl, with the the b-side featuring an etching of Jesus and Moses sharing an intimate moment. The label has also released a 7" from Burlington, Ontario's Saint Alvia as part of the summer series. It features the songs "Jonxer" backed with "Get Up and Go" on violet or "root beer" vinyl.
Releases are on the way in the series from The Ataris (titled "All Souls Day") and Weatherbox (titled "Christpuncher"). More are to be announced soon.