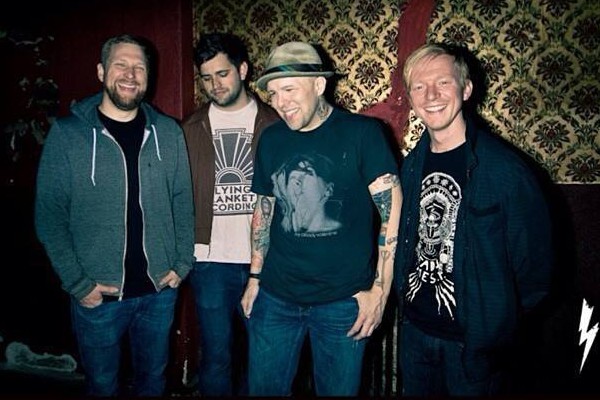 The band originally consisted of singer/songwriter/guitarist Kris Roe and guitarist Jasin Thomason. Using a 4–Track, they wrote and recorded demos in Kris's bedroom, with a drum machine as the drummer. At this point in time the band was searching for a full–time drummer. The first step in their road to success came when Kris attended a Vandals concert at Bogart's in Cincinnati, where he passed one of the demo tapes to The Vandals' roadie Fitz. A few weeks later, Kris received a call from Kung Fu Records, who told him they were interested in putting out their record, even though they were really just searching for a drummer. However, the band ended up signing to Kung Fu anyway. The label sent the tape to various drummers, and eventually the band settled on Derrick Plourde. The band then proceeded to record their debut album Anywhere but Here, tracking the whole thing in less than a week. In June of 1997, Kris moved from Anderson to Santa Barbara, California. Shortly afterward, Marko 72 joined the band on bass. Jasin Thomason left the band to go back to Indiana, and the group toured as a three–piece from then on. After a short tour in October 1997, the original lineup disbanded. Kris reformed the group with Mike Davenport on bass, Chris Knapp on drums, and Patrick Riley on guitar. From there, they gradually increased in popularity in the underground punk scene, producing the well–acclaimed EP, Look Forward to Failure, where they collaborated with blink–182's Mark Hoppus on one of the tracks. However, it wasn't until the release of Blue Skies, Broken Hearts...Next 12 Exits in the year 1999 that they started to be much more reputable. This album, along with Look Forward to Failure, is responsible for the well–known punk rock anthem, "San Dimas High School Football Rules"". Today, many of their original fans consider this the best and most hardcore album in the Ataris' catalog. After this album, Riley left the band, and was replaced with Marco Peña.

Kris Roe also took on the role of managing other punk bands such as Useless ID from Haifa, Israel. They collaborated on a split EP entitled Let It Burn. Kris also acted as co–producer with Mass Giorgini (whose other production credits include working alongside Billie Joe Armstrong of Green Day) for a Cincinnati, OH–based band called the National Trust in 2004, an album which is as–of–yet unreleased.

After a long delay, the album End Is Forever was released in 2001. This album was a testament to Kris Roe's increasing maturity as a songwriter. Most of the songs, especially "Fast Times at Dropout High", touched on very personal and emotional topics such as losing a sibling because his parents gave his newborn brother away for adoption. Once again the lineup changed, with John Collura replacing Peña on guitar.

On 2002–06–24, The Ataris left Kung Fu Records and signed with Columbia Records. Later in that year they recorded their 6th album, So Long, Astoria, released on March 4, 2003. This album was responsible for giving them their break into the mainstream audience and generated many successful singles, including "In This Diary" and their cover of Don Henley's "The Boys of Summer".

After touring behind the album for most of 2003, the band began writing the follow–up to So Long, Astoria. Much of 2004 was spent in inactivity. In October of 2004, the band released Live At The Metro, an album containing a full concert at The Metro in Chicago, as well as acoustic tracks. Mike Davenport and Chris Knapp left the band in early 2005. Recording of Welcome the Night began in February 2005. Along with it came five new members – Sean Hansen filling the bass position, Shane Chickeles on drums, and guitarist Paul Carabello, Angus Cooke (Who played Cello on End Is Forever), and Bob Hoag on 3rd guitar, Cello, and Keyboards respectively. The group spent all of spring and summer recording at Seedy Underbelly in Los Angeles. Welcome the Night is due out in early 2006.