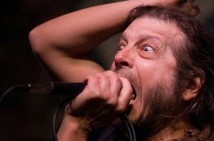 If there's a punk rock Valhalla, then surely there is a spot at the head of the table reserved for Keith Morris. Morris shaped the very essence of hardcore punk when he cut the vocals for Black Flag's seminal debut release, "Nervous Breakdown", an EP that sent shock waves across the country and beyond. After a short love/hate relationship with the band, Morris split and founded the Circle Jerks with Greg Hetson, and released the frantic 15 minute Group Sex LP. Later on, Morris would continue to push the boundaries of punk by releasing the the jazz meets spoken word LP Midget Handjob while continuing with the Circle Jerks and outlasting many of his early punk peers. Just a few months ago, Morris started a new band called Off! which he is touting as a return to the short, snappy, vicious sound of early Black Flag. Since Off! recently debuted live at SxSW (and tore the place up). Punknews interviewer John Gentile sat down with Keith to get the inside scoop on his new band, Off!, the story with the Circle Jerks, and a history lesson or two.
Update: As a point of clarification, Keith Morris wanted us to note that the Circle Jerks are definitely not done, but only on a hiatus.
How did Off! become a band?
Well, Dimitri Coates, who is in Off! and is also a producer, came to me and said "it's time for the Circle Jerks to record a new album." We decided that we were gonna record a punk record. We were only gonna spend a weekend in the studio recording and then we might spend another couple of days mixing the songs. We were not gonna play around, not use a lot of over dubs. The vibe was that we were gonna go back to Group Sex. Just trim it all down. No guitar solos. No quadrupling the guitars. No backing vocals. Just 18 songs in 20 minutes.
I mean, I was foaming at the mouth- I hadn't been this excited in 14 years. Dimitri said, "look guys, bring your stuff to the rehearsal space," but he was pretty much shooting down most of the new Circle Jerks material. I don't blame him, because I would have shot down most of the material myself. Well, Greg Hetson, says, "fellas, I'm getting ready to leave for Warped Tour to tour with Bad Religion, and we have to record the album before I leave." We set a deadline and Dimitri starts getting a little bit panicky. He says, "Hey guys, we don't have that much time and we don't have that many songs. But, we have to record in two months. The songs that you are submitting aren't good enough for a Circle Jerks album."
He wasn't mincing words and not being polite. He wasn't being the sympathetic producer. To get everything put together, Dimitri put out the word and said, "we are gonna meet in Keith's living room." No one showed up. So me, Dimitri and Greg wrote four or five songs together. But, really, Dimitri and I end up writing the bulk. Whether it took us 4 hours or 12 hours, Dimitri and I were writing a song a day.
Two weeks before recording time, everyone starts panicking. People start hemming and hawing and get flaky about things. They are like, "We don't know if we want to work with Dimitri… he's not punk rock." All of these other excuses come up like, "He's arrogant, overbearing, egotistical." But, don't the last three adjective describe band members in the Circle Jerks?
Finally, the rest of the band decides to fire Dimitri. But Dimitri and I wrote the bulk of the album. If you fire one of the guys who writes the bulk of the album, it means you might be plotting a swoop of his material. That's just not cool. Greg Hetson calls me up and says, "I know you're gonna quit the band on the decision we're making, but we have to make it." So, I said to Greg, "You are 100% correct. I quit!" Well, after that, I decided that "I started the Circle Jerks, so why do I need them? I'll start a new band!" The Circle Jerks schedule is based on The Bad Religion schedule anyway.
Is Off! a new full time band?
I can't really tell you. It's my new priority. The guys that are playing in the band are myself, Dimitri Coats, Steven McDonald, and Mario Rubalcaba. I worked with Dimitri when i was doing A & R at V2 records. Dimitri's other band, The Burning Brides were on that label.
How did you get the other members of Off! to join the band?
I saw Mario play with Earthless and on the last Rocket From The Crypt. I put out the word with a couple of my friends that I wanted to talk with Mario. Mario came to town and played with Earthless… I was planning to go see Earthless, but I couldn't go, so Mario calls me a couple days later. Mario said he would drive up from San Diego to be part of the band. That's how much mutual respect we have for each other.
Steven McDonald called me and was asked to do some vocals on the new Turbonegro album, and I said, "Hell yeah, I love TurboNegro!" So I worked with Steven, who was also in Redd Kross. Later on, I'm partying back stage after a Jay Reatard show and talking to the guys in that band. Steven McDonald is there. I said "Stephen, I'm getting ready to get a band together." Stephen is kind of ho hum, but he perked up cause he had heard the Burning Brides a couple times. He didn't know who Mario was, but the two guys that were hanging out with him were doing mental back flips. They said "Stephen you've got to pay in this band!" Stephen said "Get me some music." After I gave him three songs, he called me back the next day and asked me "when are we rehearsing?"
What does Off! sound like?
We know that we've stumbled upon something that we love. The energy is awesome and I love the vibe. I have a recording session were we recorded all of our songs. The idea is going back to the songwriting situation for the Circle Jerks. Dimitri had me listening to Group Sex and Wild in the Street, to the point where I never want to hear those records ever again. One day he started to riff in my living room, and I say Dimitri, "Tonight, when you go home, why don't you listen to the listen to the first Black Flag EP?"
Now we've gone to a place where we needed to go. Now it's more our thing. Maybe these songs are a little more aggressive than the Circle Jerks would be playing. Off! is my opportunity to re-live some of my Black Flag glory. What would have happened if Keith never left Black Flag? What if I was allowed to introduce some of my music inspiration into Black Flag?
Are there any plans for any songs to be released?
We recorded and rough mixed like five songs. I took four of the songs and played them to Brett Gurewitz at Epitaph records. I played those songs and Brett turns to me and says, "Um… I want to sign you guys. This is the best stuff I've heard in four years. Keith, you sound like you are 20 years old!"
We're recording our first 4 song EP for Epitaph in the middle of May with our friend Manny, who has recorded Los Lobos, the Breeders, Mars Volta, Icarus Line, Soft Pack and the Circle Jerks.
How have the live shows been?
We played three shows. All of the shows were very energetic, very enthusiastic. I was sitting with a rock critic. He summed us up with one word: Urgent.
You broke with Black Flag under some hostility. It seems the break with the Circle Jerks was similar. Also, when you left Black Flag, you recorded an album of short, vicious, raw songs. Now that you've left the Circle Jerks, you seem to be suggesting you are planning to do the same. Is this coincidence, or something more?
There is a common thread. The music has gotta be exiting. I mean, you go out and see these bands. Sometimes in a week I'd see a hundred bands. The majority just were not moving. I was a regular member on the Warped tour, and I was seeing all these bands who had been parading around calling themselves something they are not. It kind of bummed me out. I'm also a big fan of the party. Let people be what they want to be- but I'm not into the posturing. In Black Flag and the early Circle Jerks, I was getting beat, thrown against walls, people threw stuff at me. People just couldn't digest it. They couldn't fathom it. It took years and years of work.
The equation is that there are certain things that you do. There are certain ways that you behave. There are certain things that you take bits of pieces of. It equates to what you do, who you are, what you are about. When I walked away from Black Flag, I never really wanted to walk away from Black Flag. I just couldn't be a part of it. This new band is like Black Flag. It's the closest I'm gonna see.
In 2003, there was a Black Flag reunion that didn't get great reviews. Neither Chuck Dukowski, Henry Rollins, nor yourself were there. Do you have a perspective on the show?
The reunion was stupid and depressing. It was so bad that I couldn't be a part of it. When my heart was telling me, "Keith you have got to do this," I was like, "Keith, don't be an idiot!" One day, while the whole reunion was getting put together, Duff McKagan of Guns N' Roses walks up to me and asks me if I'm going to be a part of the Black Flag reunion because he was asked to play bass. I say, "Pfft… yeah I'm going to be a part of the Black Flag reunion!" But, I knew at that time something was strange. I was asking Greg Ginn, "Where's Robo? Where's Chuck Dukowski?" And he was giving me indirect answers. Then, suddenly it turns into a benefit for homeless cats! I'm broke. I need a per diem. I need my gas paid for. As much as I love the band, I can't do it for free. It spiraled into this complete ridiculousness. So, they tell me my services aren't necessary. Are you kidding me? My services aren't necessary?
What was it like when Black Flag was first recruiting members?
It was Greg Ginn and me trying to find players. Granted, there were some really stupid scenarios because I invited people that really had no business playing in a band like Black Flag- drug dealers, drop outs, pier dwellers, stoners. The thing with Black Flag was that I wrote some lyrics, but 98% of Black Flag was whatever came out of Greg Ginn's head. Let's not overlook the genius, the pure brilliance of Greg Ginn! Even though I want to dis on Greg Ginn, I can't. For every bad thing to say about him, there are a zillion great things.
You know, it's funny, because in interviews, both Henry Rollins and Chuck Dukowski have expressed personal frustration with Greg Ginn but continue to praise him and his work.
Well, do you think Einstein's wife thought it was easy to live with him? He couldn't even put on matching socks in the morning!
In April, there's an album of Black Flag tunes in the Americana style being released to which you contributed. Has Black Flag become so ingrained in American culture that Black Flag songs have become traditional American songs?
One way that you could look at Black Flag would be the same way to look at Woody Guthrie. He would go out and sing to the people, driving down the road from city to city. That's what Black Flag did in the beginning. Black Flag didn't really have a place to play… we would go where ever we could go. I personally didn't tour with Black Flag. But, I did what Black Flag did with the Circle Jerks- playing two shows a night cause there were no all age shows. If we were lucky the promoter would be okay. Black Flag were the pioneers that mapped out the tour for all of these bands that followed them.
Any last comments?
We gotta keep the musical thing happening. We gotta do it from our hearts. We gotta have a blast! We gotta keep doing what we do!