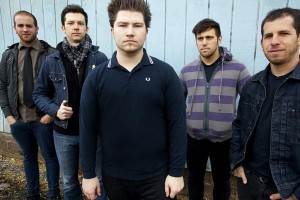 Paper+Plastick act Protagonist had their trailer stolen when they made a stop in Tulsa, OK yesterday. The band made the following statement:

We're all a little scatter-brained and shocked right now so I don't even know where to begin, but our trailer was stolen off of our van sometime between 5-7:30am this morning from a Days Inn Airport Hotel/Denny's parking lot last night in Tulsa, Oklahoma. The van was parked right side of our hotel room in a very well lit parking lot that the hotel shares with a Denny's Restaurant. That lot is where the hotel asked us to park it, and the staff at the 24-hour Denny's told us the van would be safe there as well. But we were wrong. The pin lock was somehow removed, the chains were cut, and no trace of the trailer was left behind. We drove 18 hours straight from Florida to Tulsa,OK to record with Stephen Egerton. We were supposed to start early this morning hence pulling into town yesterday evening.
The band has posted a list of the stolen items (which the estimate to total around $22,700) here and asks that anyone with any information contact the band at ProtagonistStolenGear[at]gmai[dot]com or by calling Brian at the number on the at the bottom of webpage. The band has also set up a paypal donation site, found here. We will keep you updated as details come in.