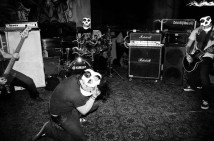 Northern California hardcore outfit At Our Heels have posted two songs from their upcoming Creator-Destructor Recordes debut, Misanthropy and Godlessness. The band entered Castle Ultimate Studios in Fremont, CA in March of 2010 with producers Zack Ohren (All Shall Perish, Animosity, Light This City) and Aaron Helam for the production of their debut full length
The record is due out August 11, 2010 and will feature multiple gatefold vinyl configurations, as well as a digipak CD format. The artwork was handled by artist Ryan Begley (Shirts and Destroy).
Check out the new songs on their MySpace page.