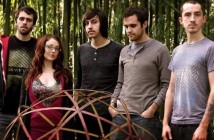 Equal Vision Records has signed ORBS. The band includes Adam Fisher and Clayton "Goose" Holyoak (Fear Before), Dan Briggs (Between the Buried and Me), Ashley Ellyllon (Abigail Williams/Cradle of Filth) and Chuck Johnson (Torch Runner).
The band recorded at The Basement recording studio in Winston-Salem, N.C. with producer and engineer Jamie King [Between the Buried and Me, Alesana] and promises " piano-infused choruses with a mixture of classic and space-rock interludes," The record is titled Asleep Next to Science and is due out August 17, 2010 via Equal Vision.
You can find three songs on their MySpace page.