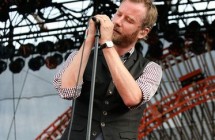 On the heels of their Gaslight Anthem set from Bonnaroo, NPR has added soundboard-recorded sets from Against Me!, The Dead Weather, The Avett Brothers, The Gossip, Isis, Japandroids and more. The venerable radio station had this to say about Against Me!'s set:

Gabel abandoned his beat-up acoustic for an electric guitar and a full band long ago; his supporting players now include former Hold Steady keyboardist Franz Nicolay. Punks cried foul at first, maybe the same way studded-leather-jacketed kids felt when The Clash started selling out arenas. Many of them still haven't forgiven Gabel for moving to a major label, disowning parts of his past and playing to a younger and often suburban audience.

The rough-hewn edges are gone and the songs are poppier, but as I realized while watching, Against Me! has always been a band about growing up. That doesn't mean that a set list that includes a reflective and reactionary new song ("I Was a Teenage Anarchist") and an older idealist anthem ("Baby, I'm an Anarchist") make Gabel any less complicated of a musical persona. It just means that "being punk" is complicated, set against youthful fervor and the realization that nothing's quite so black and white.
You can check out each of the sets here.