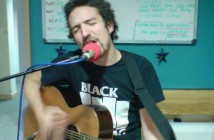 On the eve of his opening for Green Day at Wembley last night, Frank Turner visited The Sun to perform the Queen classic, "I Want to Break Free." The song and band had a special significance to Turner who mentioned it when the show with Green Day was first announced:

The [Tribute to Freddie Mercury] was a major musical milestone in my life. My older sister made me watch it with her, and we taped the whole thing over a number of VHS cassettes (swapping them over as fast as possible so as not to miss anything). I was 10 years old, I'd just started finding out about music, but seeing Metallica, Guns n Roses, Spinal Tap (!) and a host of others playing Queen tunes was a major eye-opener for me. We watched those tapes till they broke.
Check out the video here.
Turner continues to support his 2009 Epitaph Records debut, Poetry of the Deed.