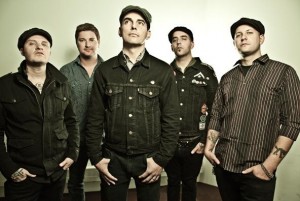 Street Dogs have announced the details for their upcoming album. The record is still slated for a release on August 31, 2010 and will be self-titled. It was co-produced by bass player Johnny Rioux and Rick Barton and engineered and mixed by Jason Livermore (Rise Against, NOFX) at the infamous punk rock recording studio The Blasting Room in Fort Collins, CO. Singer Mike McColgan notes:

We have songs about personal empowerment, personal freedom and the search for personal redemption on our record. We have a song called "Hang Em' High" that talks about the corruption of Bernie Madoff and a song called "Wild In Portland" that speaks of economic downturn and it's fallout.

There are also songs that eulogize our fallen friends who didn't fair too well in the game of life and songs that praise our family and our roots. And a song entitled "Up The Union" for EFCA (Employee Free Choice Act) legislation which would make it less difficult for employees to organize labor unions and lessen the chance of employer reprisal for organizing. We've got a Saturday night, punk rock throwdown anthem in our song "Punk Rock And Roll" and with "Rattle And Roll." I pay homage once again to Dorchester and Dot Rats!

The album is self-titled because it's collectively as a group coming forward and saying this is our best and most definitive work so far.
Formation- 0:43
Rattle And Roll- 1:50
Up The Union- 2:28
Punk Rock And Roll- 2:34
The Shape Of Other Men- 2:24
Yesterday- 2:25
Too Much Information- 1:42
Bobby Powers- 2:40
In Stereo- 2:43
Hang 'Em High- 1:20
Ghosts- 2:17
Harpo- 2:12
10 Wood Rd. - 2:21
Portland- 2:21
Freedom- 1:32
Oh Father- 2:52
Fighter- 3:12
Poor, Poor Jimmy- 2:59