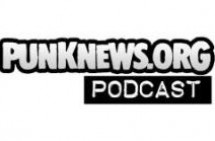 Today, we're especially excited to unveil the first episode of the official Punknews.org podcast. From here on out, a rotating cast of Punknews staff members will convene every week to talk about some of the more prudent stories we've posted on the 'Org recently, as well as premiere some new music that we feel you should know about.
This week, I was joined by news editor Adam White and interviews editor Rich Verducci for a roundtable discussion regarding notable stories such as Weezer going indie, Fugazi's work on a digital live archive, MySpace and Spin's best of 2010 so far lists, the planned Bomb The Music Industry! documentary and the news that Sublime with Rome are planning new music.
Along with copy editor Jesse Raub, we each selected a song to play on the show and those include brand new tracks from My Heart to Joy and Austin Lucas that are likely never-before-heard by most folks, as well as music from Comadre and Coliseum.
It should be noted that with this being the first episode, the format for future shows is likely to change. You'll have to excuse any bumps in the road, as we're still sort of learning how to do this. Anyway, you can click Read More to stream and/or download the show, or subscribe via RSS (we're awaiting approval in the iTunes store). Of course, we'd love to hear your feedback in the comments section or via e-mail.