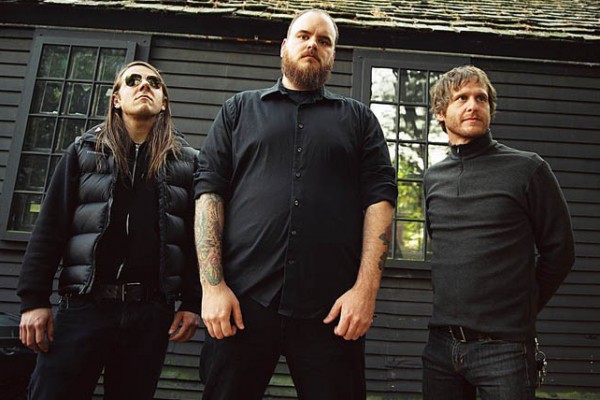 Like their namesake, the legendary Sunn amplifier, Coliseum is a colossus of unbridled heaviness and no nonsense intensity. Formed in November of 2003 by singer/guitarist Ryan Patterson, Coliseum fully embraced punk rock and hardcore's DIY ethos from the start.

The band recorded their first album on an eight track reel to reel in a Louisville garage mere months after their first practices. This self-titled album saw its release in the Summer of 2004 on Level Plane Records and was a raw and primal initial statement of intent, blending early punk, d-beat and hints of crusty hardcore. A split 7" with fellow Louisville punk-metallers Lords on Patterson's label Auxiliary Records was released soon after. The band instantly set off on tour, logging over 100 shows in their first eight months on the road with the likes of Cursed, Hot Cross, Breather Resist, Lickgoldensky, and more.

Coliseum continued on with their constant self-funded touring and recording, entering the studio in late 2004 to record their much talked about Goddamage EP. First released via Manic Ride Records in April of 2005 and later reissued by Auxiliary, Goddamage saw the addition of Mike Pascal on bass guitar and found the band expanding their thrashing hardcore sound with melodic post-hardcore and rock influences, to great result.

During 2005, Coliseum logged over another 120 shows while on tour with From Ashes Rise, Municipal Waste, Kylesa, Buried Inside, Breather Resist, Lords, Torche and others. While continuing to tour relentlessly, Coliseum released a handful of split releases with their peers. The first of these was Not Of This World, a split 12" CD with Boston's Doomriders. Not Of This World featured new tracks and Danzig covers from each band and was released via Auxiliary and Level Plane in November of 2005.

At the end of 2005 the band found themselves without a drummer and enlisted friends Geoff Paton (Breather Resist, Young Widows) and Al Biddle (Rammer) to fill in for respective tours, never canceling a single show. After an exhaustive search for a permanent drummer, they found powerhouse player Chris Maggio on the reference of mutual friend Dave Witte. Maggio learned the entire Coliseum set in mere days and they began 2006 with their first European tour alongside hometown compatriots Lords. This tour was accompanied by a Coliseum / Lords split CD out through Destructure Records. The disc compiled previously released material by each band as well as one exclusive ?oLordsiseum?track, a collaboration written and recorded by assembled members of both bands.

A third split CD release, this time with Young Widows, served as Maggio's recorded debut and came out in July of 2006 on Auxiliary Records. This collection of tracks would see its 7" vinyl release later in the year through Relapse Records. The Coliseum and Relapse relationship would strengthen by the end of year when Coliseum became official members of the Relapse roster. The band then began to focus on the writing of their second full-length album. Committing themselves to an intense writing and rehearsing regiment, they toiled away in their rehearsal space for a one-week-on / one-week-off schedule for months on end.

They entered God City Studios in Salem, MA in May 2007 with producer Kurt Ballou to record their Relapse debut, No Salvation. The result was their best material to date. Incredibly impassioned songs that range from hardcore tirades that shred at a breakneck pace, to tightly constructed monolithic riffs, as well as songs that break entirely new ground for the band. Coliseum has continued to perfect their melding of hardcore, punk and rock with the urgency and desperation of the most vital hardcore forefathers.

No Salvation is set for August 2007 release date and bleeds, sweats, and cries COLISEUM's passion, power, and DIY principles. And for a band who has toured incessantly since forming, one can only expect a number of tour dates in support of the album's release.