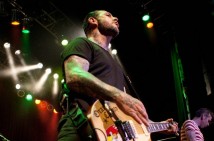 At a show in Poughkeepsie NY, Social Distortion's Mike Ness revealed a title and projected release date for their upcoming Epitaph Records debut. First, Ness revealed the title as Hard Times and Nursery Rhymes and also promised a November release date.
This fall, the band will be hitting the road with Lucero and labelmate Frank Turner.
Stick around the video for a performance of the crowd favourite "Story of My Life." The song comes from their 1990 album, Social Distortion.