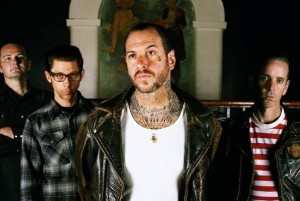 Social Distortion is headed to the land of kangaroos and wallabies. The band's first trip to Australia will happen in early 2011 at the nationwide Soundwave festival. Tickets are going on sale this month however at the Soundwave website.
The band recently finished up the writing of their new album Hard Times and Nursery Rhymes and have presumably come close to tying the whole thing up by now. The band, who recently signed to Epitaph Records, will release their new album in the fall. The record will be the band's first of all new material since 2004's Sex, Love and Rock 'n' Roll. It will also be their first release with a new lineup consisting of Mike Ness (vocals, guitar), Jonny "2 Bags" Wickersham (guitar) and Brent Harding (bass).
The band is currently on the road and heading to Chicago for an August 7 main stage performance at this year's Lollapalooza. Dates with Dan Sartain and The Action Design resume in Green Bay, Wisconsin on August 8. Check out those dates here.
This fall the band is heading out on the road with Lucero and Frank Turner.
| | | | |
| --- | --- | --- | --- |
| Feb. 26 | Brisbane, QLD | Soundwave Festival | RNA Showgrounds |
| Feb. 27 | Sydney, NSW | Soundwave Festival | Eastern Creek Raceway |
| Mar. 04 | Melbourne, VIC | Soundwave Festival | Melbourne Showgrounds |
| Mar. 05 | Adelaide, SA | Soundwave Festival | Bonython Park |
| Mar. 07 | Perth, WA | Soundwave Festival | Steel Blue Oval |