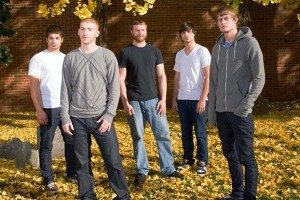 It appears as though Crime In Stereo have broken up. The band has offered little information other than identical "CRIME IN STEREO IS DEAD (2002 - 2010)" status updates on their twitter and Facebook pages. We'll keep you updated as more details surface.
Recently the band was forced to cancel a handful of shows after vocalist Kristian Hallbert had to undergo emergency oral surgery. According to this post to the group's twitter, Hallbert had to have some teeth removed as well as part of his jawbone sanded down. There's been no official word on whether or not complications from the surgery influenced the breakup, but we'll keep you updated on Hallbert's condition and we certainly wish him a speedy recovery.
Over the years, Crime in Stereo issued four full-lengths, two EPs, one split and one compilation. The band last released I Was Trying to Describe You to Someone earlier this year.