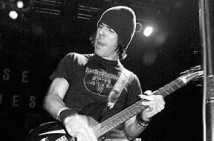 Dan Lukacinsky, founding guitarist of The Suicide Machines, has sent Punknews this public statement regarding his non-involvement in the recent string of reunion shows, including a headlining spot at this year's Fest.
Hey all, I know that more than a few people are wondering why I am not and have not been involved in these recent Suicide Machines happenings. I've been asked several times so I felt that I needed to clarify, on my end, why I am not. Over the course of the last year I was never contacted or even notified by any ex-band member that plans were being made to play shows under the name of The Suicide Machines. I find this very interesting as the vast majority of what they must be playing, if they were to put together any kind of a substantial set, would be my songs. Very interesting indeed. Takes me back to why I decided to walk away from it 4 years ago - disrespect issues. At any rate what's been going on recently is not a reunion. You need the core members to do that. That would be Jay Navarro and myself. Without both of us involved it cannot truly be called The Suicide Machines. If this is what the guys feel that they need to do then so be it. As for me - I continue to write songs for and play in The One Thought Moment. Exactly where I want to be. Thanks for listening and thanks to my friends at PunkNews for being awesome! - Dan
The band split in 2006 after a long career. Since then the members have been involved in many projects including Hellmouth, Hifi Handgrenades, One Thought Moment, Bayonetting the Wounded and more.