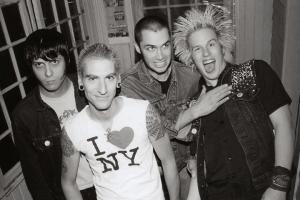 Edmonton's Wednesday Night Heroes have posted an update on the band's current status. Their members are at work on various projects, none of which however will see the street punk act recording or hitting the stage in the immediate future:

Luke "the manimal" MacKinnon, bassman extrodinaire is moving out to Ontario to learn how to make wine, we're all super stoked for him as he has managed to find a way to make partying a career. He will be missed, but when he returns I'm sure we'll find a way to get his ass on the stage to rage.

While Graeme is doing No Problem, Jay and Konrad as well as long time roadie and bro-t'ill-death Banzai Bri have decided to do a really great project called Fever Island. It's a Naked Raygun tribute band and if you are a fan of the seminal Chicago beast than you should check'em out when you can. They do bad ass verisons of classic Raygun tunes like Treason, Entrapment, I don't know, knock me down, Rat Patrol and Vanilla Blue as well as every hit you can think of. Seeing Kon and Jay shred is a treat so make sure you can catch them.
The band's most recent full length was 2007's BYO released Guilty Pleasures.