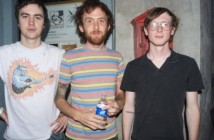 Richmond, VA's Sundials have joined Traffic Street Records. The band will release their debut full-length Never Settle through the label in September.
They've also recorded a song for Traffic Street's ongoing Dangerous Intersections 7" series as well as two tracks for an upcoming split with Spraynard for a TBD label. A track from said split entitled "Snowballs at Cops" can be heard at the group's Bandcamp page or by clicking Read More.
Sundials' First Six Songs EP is still up for free download from If You Make It.