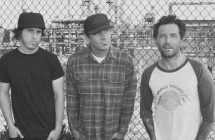 The Black Pacific have posted a free download of their track, "Living With Ghosts." The song comes from their upcoming Side One Dummy Records debut, slated for a September 14, 2010 release.
Find the download via Fuse.
The band is the new project from former Pennywise vocalist Jim Lindberg. We recently spoke to Jim about The Black Pacific; that conversation can be read here.