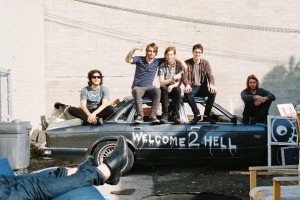 Our stream today comes from Las Vegas, NV's Caravels. We've got a stream of the band's new EP, Floorboards, which our reviews editor Brian Shultz called an "incredibly dense and yet thoroughly interesting, non-specific blend of brooding, modern hardcore, '90s screamo temperament and gloomy, lumbering post-rock elements … It's a progressive and circuitous sound offering few hooks to satiate early or even later listens, but it's a rewarding investment all the same."
You can check it out on their Punknews.org page.
The band recently signed to Topshelf Records and the label has plans in motion to give Floorboards a wider release.