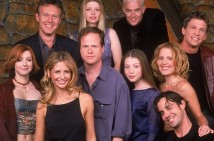 Hellmouth, the new project from Jason Navarro of The Suicide Machines, have signed to Paper and Plastick according to Noise Creep. The label will release the band's second full length, Gravestone Skylines. It follows 2009's Destroy Everything. Worship Nothing.. The band described their sound:

Our goal for existing is to take people back to the glory days of the underground and remind people of the fear, anger and honesty that once existed in a music scene that's since gone soft and has lost all integrity. It's back to brutal basics; making music that flows in the blood. Not punk. Not metal. Not hardcore. A crossover of all three to create a soundtrack for pain, misery and the end of existence.
They released a split with Explode and Make Up earlier this summer via Underground Communique Records.