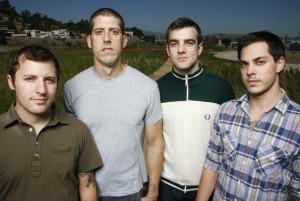 In honor of this year's Fest Punknews has teamed up with the organizers to bring you a series of ground breaking, earth shattering and otherwise mantle destroying interviews. In this selection Peter Marullos of Protagonist sits down with Dan Yemin and Andy Nelson of Paint It Black to discuss bands, babies and bifurcation.
The past couple Fest that you dudes have played, Paint It Black has certainly raised the bar for offstage performances. Playing inside of a box truck during Fest 7 and almost collapsing the dudes in Spanish Gamble's apartment during Fest 6 were two of the coolest things I've ever seen. Are these offstage sets planned before getting to Gainesville or are they more spontaneous? Andy: Like that's really the kind of question we'd answer for the Official Fest Guidebook [editors note: the Guidebook is where this interview was originally going to be published].
Dan: What we do is secret.
What bands are you looking forward to watching Fest weekend? Dan: Punch, Hard Skin, Dear Landlord, Algernon Cadwallader, Dead To Me, Defeater, Torche, Bridge & Tunnel, Comadre, Deep Sleep, Iron Chic, Hour of the Wolf, No Friends, P.S. Eliot.
Andy: Yeah, I don't even know where to start on this one. But I will say that I'm a little worried about the Hard Skin set -- they always draw out the most violent, sketchy crowds. What's going to happen when a gang of white power skins clash with dozens of Bomb The Music Industry! fans? Hopefully only a few people get stabbed.
As seasoned Fest veterans, you guys have been able to spend some time on the streets of Gainesville. Are there any places or restaurants that you would recommend or look forward to visiting while in town? Dan: The outdoor bar at Common Grounds.
Andy: We've heard it's pretty easy to walk into university frat houses and just take whatever you want. For those on a budget.
Any special Fest memories on and/or off-stage that stick out in your memory? Dan: Dillinger Four at Fest 5 and 6 was really exciting, some of the greatest large scale shows I've seen in my life. And when Naked Raygun played I lost my fucking mind. The Ergs at Common Grounds was astounding. First time I saw The Measure was at 1982 at Fest 6 I think, and that was killer. And of course the "offstage performances" you mentioned in the first question will go down in history as some of the greatest musical experiences of our lives. I got the feeling that the Fest chain of command wasn't too stoked about the U-Haul truck show, but you have to admit it was pretty epic.
Andy: Ted Leo/Pharmacists, The Marked Men and Armalite have been some of my favorite bands to see that Yeems didn't already mention, I think. But that last time Avail played might have been the greatest. Honestly though, all my fondest memories are of our little, awful group of Philadelphians acting like loud jerks to the chagrin of anyone within earshot. Who can forget when we rented a Sebring convertible (the coolest car on the market, according to Motor Trend) and cruised the strip all day blaring Soulwax and Freeway? Not us, at the least! And though such shenanigans sometime end with someone getting arrested or Tony kicking us out of the Venue's backstage during D4, these are the sort of memories we'll cherish long after we're all older and more irrelevant.
Do you guys have any upcoming touring plans? Dan: Well, the word "tour" has kind of shrunk in its implications since I had a baby. We just got back from a week in the UK, and that was a stretch. We'll be able to do weekends here and there and that will be it for quite awhile.
Andy: We've never been an actively touring band, though. Which I think is why our trips to The Fest have always been such a cool, affirming kind of get together with our most kindred of spirits and our sets a nice annual opportunity for the diehards to go crazy.
In 2009, we saw the release of two EPs, "Amnesia" on Bridge 9 Records and "Surrender" on Fat Wreck Chords. Can we expect any new releases for 2011? Dan: We hope so. The songs are there, but the logistics of recording are a nightmare, between parenthood and Jared living in Los Angeles now. You'll probably see a new Armalite record first. That should tell you just how slow things are running for Paint It Black right now.
This question is for Dan. So, you have played in Lifetime, Kid Dynamite, Armalite, Paint It Black, you have a doctorate in psychology and have had a practice specializing in child and teen psychology. Now you are a big poppa with your first child. Seems like you have always been able to juggle many aspects of your life and continue to hold true to your lifestyle. How do you do it? What has changed with the recent addition to your family? Dan: I just always believed that you've got to make time for the things that are important, which for me are family, friends, work and replenishment. The important people in my life have always been my first priority. Work has always been bifurcated, split between music and psychology, and I work for myself so I've always been able to manipulate my schedule to some extent, making time for almost everything (up to a point). Music, friends and family have provided most of my replenishment over the years. Being a father has really pushed me to slow everything down and make sure that I'm putting my family first, which you can't really do if you're away from home too much. Everything is for my daughter now, even the music. Whether we're singing about political situations or personal stuff, it's all about imagining a better world for her. I'm working on new 7" EP's for all three bands, but it's going to take awhile.