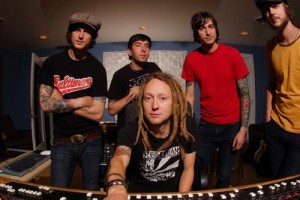 In our continuing series of Fest interviews Punknews is proud to present Brian Frost and John Marullo (of Protagonist) interviewing Strike Anywhere. The boys had this to say,
Since their inception in 1999, Strike Anywhere have really made their mark on the punk and hardcore scene, both nationally and internationally. With a handful of releases on labels like Jade Tree, No Idea, Chunksaah, Red Leader, Fat and most recently Bridge Nine, they have given us countless anthems as well as no excuse to have never heard of them. I still remember the first time I heard the song "Cassandratic Equation" on mix-cassette tape in my best friend's car back in 2001, and I've been a fan ever since. I was privileged enough to ask them a few questions and am looking forward to catching their set this year at The Fest.
Gainesville is one of the first cities Strike Anywhere had a following in besides Richmond. Can you recap the details of the first SA show in Gainesville?
It was Gainesville Fest '99. It was our fifth show (first out of town) and we were so excited. This was when we met As Friends Rust, who ended up taking us on our first US and European tours. We slept on Chuck Ragan's floor, I think. The bond between RVA and Gainesville has always been strong.
"Chorus of One" has become a beloved record in the punk and hardcore communities. How did you hook up with No Idea for its release?
In early 2000 we opened up for Hot Water Music, Saves the Day and Small Brown Bike at Twisters in Richmond. We went to a bar afterward with HWM and Var was there as well. Chuck or Chris from HWM jokingly told Var he should put out "Chorus of One" and he went for it.
You have been quoted saying that "Iron Front" brought things full circle for the existence that is SA. With all members living in the same basic geographical area again, what can we expect from SA as we embark on a new decade?
It really does feel like the old days. The converted moving truck we have toured and lived in for the last six years finally died and we bought a beat up van. We are now back in the realm of weekend and shorter tours, like we did when we started. We haven't been able to do a tour without someone flying out in quite a while. It's nice to tour like we did when we started again.
As both an active participant and observer in the punk community for over two decades, for you personally, what are the largest changes?
So many more bands are out there putting out records and touring. People downloading records illegally gets your music out to many more people, but makes it so much more disposable. When you buy a record on vinyl, you make much more of a commitment to appreciating the music and the artwork. Cell phones with the internet and GPS have made touring infinitely easier.
Your set at Fest 8 was definitely a highlight of the weekend. Many Festers are looking forward to seeing your set again this year. What are some of the bands that you are looking forward to watching this year?
We are touring down with A Wilhelm Scream and the Flatliners, two bands we have gotten to know and love over the past few years as friends and musically. Also, Dead to Me, Gatorface, Planes Mistaken for Stars, Paint it Black and Teenage Bottlerocket.
So I read that your October/November tour is taking place in smaller venues with older set lists. I'm sure everyone that has been seeing you guys for a while was stoked to read that too. What made you guys decide to do that?
Any band will agree that the energy playing a packed small room always beats a half full big room with a tall stage and barrier. Since "Iron Front" came out, we have been slowly re-learning older songs and enjoying being able to mix up the set lists and keep it fun for us.
I also read that these shows are you going to be your last for a while. You guys have been on tour pretty much non-stop since "Iron Front" was released. Are you looking forward to some time off? What do you think you'll do to pass the time?
The last year has been pretty hectic. We all needed a break. Some of us have part time jobs and some are looking for them. We do have a few things booked. I will say that we've only been home a month now and I am definitely itching to play.
The last time I saw you guys play 'Notes On Pulling The Sky Down" was in 2001 with AVAIL at Club Q in South Florida. Any chance of you guys adding that to your Fest set list?
Hopefully we can re-learn that one in time for this year's Fest. That was the one my mom liked because it had the acoustic guitar at the beginning. When we first started writing together, we thought every song had to have like 10 parts and now we can't seem to remember all of them at the same time, haha. I'll go grab the guitar now and work on it.