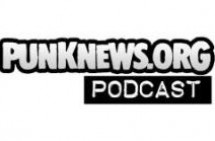 The Punknews Podcast is getting ready for the Fest this week. The classic line up of editors Bryne Yancey, Rich Verducci and Adam White tackle stories such as the Tea Party turn from the Velvet Underground's Maureen Tucker, and the awesome Bad Religion boxed set. However nothing this week dominates the conversation like The Fest! Check the show out for some excellent Fest advice from a few veteran Festers to make sure you don't crash and burn before Sunday night. It's the only sure fire way to avoid FestAIDS folks.
On top of that, we've got music on the show from Someone Still Loves You Boris Yeltsin , Diesto, and Comadre teaming up with Dead To Me.
You can click Read More to stream and/or download the show, or subscribe via RSS or iTunes. Don't forget to give us your feedback in the comments section or via e-mail. And if you'd like to catch up on past episodes, you can do so right here.