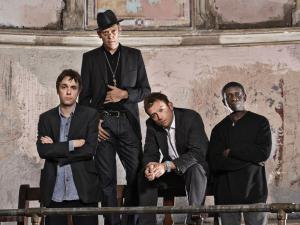 The Good, The Bad and The Queen are apparently working on a new album. The band features Clash basist Paul Simonon, as well as Damon Albarn (Blur, Gorillaz), afrobeat pioneer Tony Allen, Simon Tong (The Verve) and producer Dangermouse (Gnarls Barkley, Gorillaz). They last released The Good, The Bad and The Queen in 2007.
Frontman Albarn spoke to New Zealand's Stuff Magazine and when he was asked about it, said:

Well, I would hope so, definitely.
He also confirms that he working on another African music inspired album which will also feature Tony Allen and he is "three-quarters of the way through."